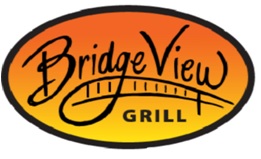 Bridge View Grill
At the base of the Bourne Bridge
109 Trowbridge Road; Bourne, MA 02532
774 355-2978


We are open from 11:00 AM
Kitchen closes at 9:00 PM Sunday - Wednesday, Thursday - Saturday 11:00 PM

This is the place to relax, meet, party, and
to play and win the Massachusetts Lottery.



We accept Visa, MasterCard, Discover, and American Express credit/debit cards.

Our function hall is available for parties and events, small and large, up to 273 people.

We are still seeking fine people to join our super team.
If you one of the fine people who are looking for flexible hours, a supportive team and friendly place to work, consider us now.